Tapalpa (Editorial Agata/Fotoglobo, 2001)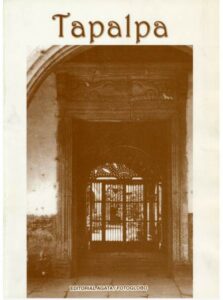 Short articles on the locations set the scene for dozens of vintage sepia photographs of this historic village which has become a prime tourist destination (and is one of the "Magic Towns") in Jalisco, Mexico. The book includes photos of Tapalpa, La Constancia, las Piedrotas, Los Frailes, Ferrería de Tula, Ojo Zarco, Arroyos, Buenavista, El Tacamo and Cascada el Saltito and Cascada de las Palomas.
Sombrero Books is reader-supported. Purchases made via links on our site may, at no cost to you, earn us an affiliate commission.
Learn more.
Softcover, 64 pages. Dimensions (in inches): 10.6 x 7.8 x 0.2; ISBN: 970-657-102-7 Price: US $15.00  (plus shipping, contact us for details)
Related books: