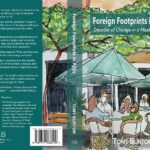 We are delighted to announce the publication of Foreign Footprints in Ajijic: Decades of Change in a Mexican Village.
In the 1940s, Ajijic, on the shores of Lake Chapala, was a small, remote, parochial village of farmers and fishermen. Today, Ajijic is a vibrant community, home to one of the largest US retirement communities outside the US, and is one of the most cosmopolitan villages in the world.
Sombrero Books is reader-supported. Purchases made via links on our site may, at no cost to you, earn us an affiliate commission.
Learn more.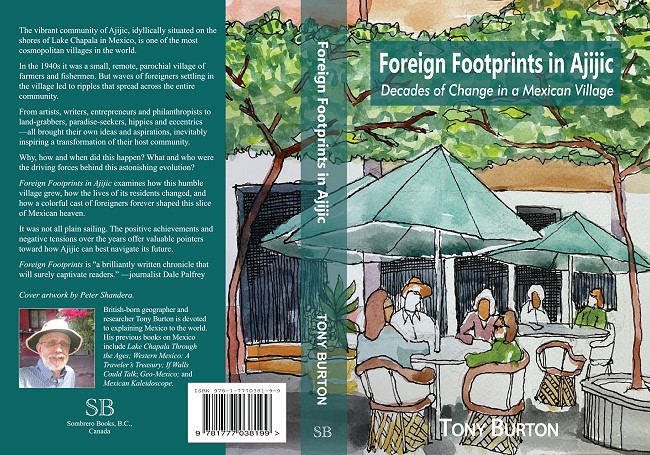 Foreign Footprints in Ajijic looks at why, how and when this astonishing transformation happened, and who and what were the driving forces involved.
Based on more than a decade of original research, this is the extraordinary, previously untold history of how early waves of foreigners settling in the village led to ripples that spread across the entire community. From artists, writers, entrepreneurs and philanthropists to land-grabbers, paradise-seekers, hippies and eccentrics —all brought their own ideas and aspirations, inevitably inspiring an astonishing transformation of their host community.
Author Tony Burton guides readers through the decades, offering examples of both the positive achievements of foreigners and the negative tensions they created; these offer some valuable lessons as Ajijic seeks to plan its future.
Whether you are a long-time resident of Ajijic, a relative newbie, or are still looking into options for your retirement years, this book offers some eye-opening insights into the community's past.
This fully referenced book with cover artwork by Peter Shandera, has 290 pages of text, 2 original maps, 30 pages of notes, bibliography and index.
It was released in March 2022 and is now available via Amazon as a regular softcover print book. The Kindle edition will follow shortly.
By 20 March 2022, copies will be on sale in the Lake Chapala area, at the Hotel La Nueva Posada; at Diane Pearl Gallery, Arts & Activities Center, Sta Margarita 23, Riberas del Pilar; and at Hotel Villa QQ, Zaragoza 307, Chapala.