We are delighted to announce the publication of Si las paredes hablaran: Edificios históricos de Chapala y sus antiguos ocupantes, a Spanish translation of If Walls Could Talk: Chapala's historic buildings and their former occupants.
Si las paredes hablaran was published in September 2022 and is now available via Amazon as either a Kindle ebook or as a regular softcover print book, and in several stores in Chapala and Ajijic.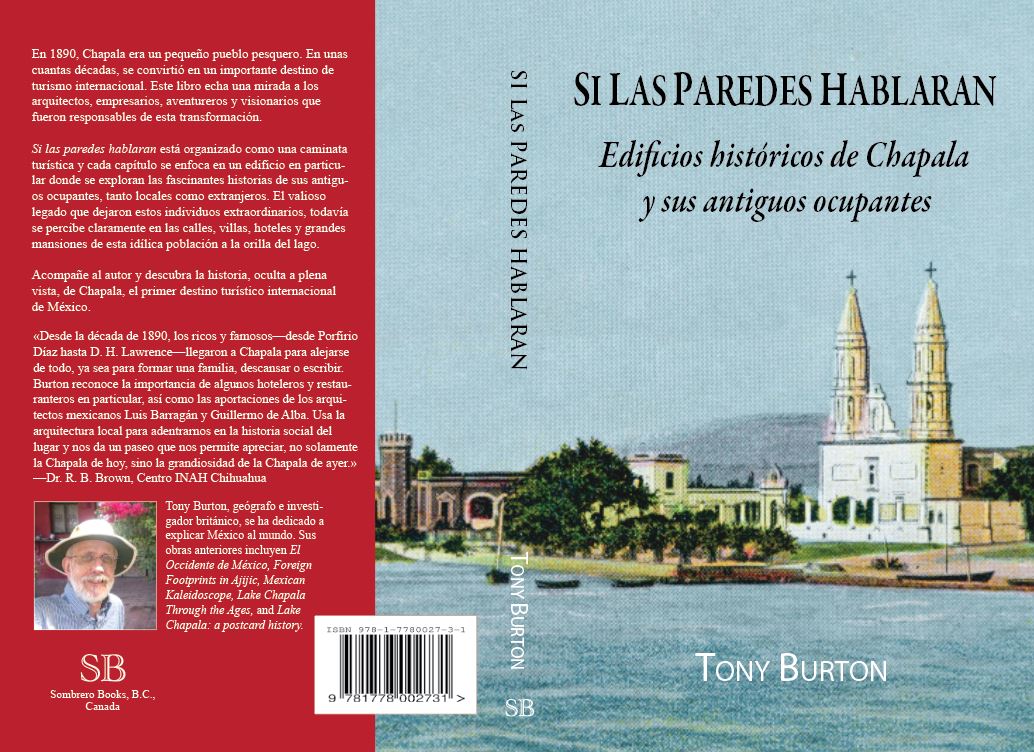 En 1890, Chapala era un pequeño pueblo pesquero. En unas cuantas décadas, se convirtió en un importante destino de turismo internacional. Este libro echa una mirada a los arquitectos, empresarios, aventureros y visionarios que fueron responsables de esta transformación.
Si las paredes hablaran está organizado como una caminata turística y cada capítulo se enfoca en un edificio en particular donde se exploran las fascinantes historias de sus antiguos ocupantes, tanto locales como extranjeros. El valioso legado que dejaron estos individuos extraordinarios, todavía se percibe claramente en las calles, villas, hoteles y grandes mansiones de esta idílica población a la orilla del lago.
Acompañe al autor y descubra la historia, oculta a plena vista, de Chapala, el primer destino turístico internacional de México.
«Desde la década de 1890, los ricos y famosos —desde Porfirio Díaz hasta D. H. Lawrence— llegaron a Chapala para alejarse de todo, ya sea para formar una familia, descansar o escribir. Burton reconoce la importancia de algunos hoteleros y restauranteros en particular, así como las aportaciones de los arquitectos mexicanos Luis Barragán y Guillermo de Alba. Usa la arquitectura local para adentrarnos en la historia social del lugar y nos da un paseo que nos permite apreciar, no solamente la Chapala de hoy, sino la grandiosidad de la Chapala de ayer.»  —Dr. R. B. Brown, Centro INAH Chihuahua
– – –
En la zona del Lago de Chapala, el libro se venderá en el Hotel La Nueva Posada, Mi México y el Ajijic Museo de Arte (todos en Ajijic); en la Galería Diane Pearl (Riberas); y en el Hotel Villa QQ (Chapala).
In the Lake Chapala area, the book will be sold at the Hotel La Nueva Posada, Mi México and Ajijic Museo de Arte (all in Ajijic); at Diane Pearl Gallery (Riberas) and at Hotel Villa QQ (Chapala).