In the twenty years since its first publication, "Western Mexico: A Traveler's Treasury" has become a classic. The latest edition is easily the best ever!
Sombrero Books is reader-supported. Purchases made via links on our site may, at no cost to you, earn us an affiliate commission.
Learn more.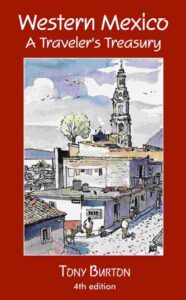 Award-winning travel writer Tony Burton reveals the magic of Western Mexico. Relaxed and intimate, this easy-to-read yet authoritative account features more than 35 original drawings by Canadian artist Mark Eager and 10 maps. Enjoy the author's unique insights into local history, ecology and traditions. Now in its fourth edition, the book remains a favorite among knowledgeable travelers visiting this region of Mexico. The 4th edition is one-third larger than the previous editions, and includes dozens of new places worth exploring. It incorporates several new chapters, including four devoted to the region around Zacatecas. Every chapter has new material. Maps have been redrawn and travel directions updated. A mixture of interests is represented. Included are historical sights such as Zacatecas, Lagos de Moreno and San Blas; artistic colonies like Ajijic; and lakeside communities, including Chapala and Pátzcuaro. Alongside them are ecological wonders, such as Manantlán and the monarch butterflies; old mining towns like Angangueo and Bolaños; coastal resorts such as Barra de Navidad and Puerto Vallarta; Indian villages like Angahuan, and a host of others.
"Whether you're an intrepid on-the-road adventurer or a relaxed armchair traveler, Tony Burton's "Western Mexico: A Traveler's Treasury" is an ideal companion… One factor that lends special appeal to this singular travel book is Burton's departure from the stock formula found in conventional guides. He adheres to a more organic approach, drawing on personal experience and meticulous research to divulge the virtues and peculiarities of every destination." (Dale Palfrey, 2014)
Want to learn more?
Extracts from the book
Where to buy the 4th (2013) edition of "Western Mexico: A Traveler's Treasury":
Reviews of 4th edition
Reviews of previous editions: