These are the definitive street plans of the major villages on Lake Chapala including Chapala, Ajijic and Jocotepec, and their subdivisions, together with touring maps of the north and south shore, and a detailed regional map showing highways, tourist information and villages within day-trip range of Guadalajara and Chapala.
Price $10.00 (includes shipping to anywhere in North America).
Where to buy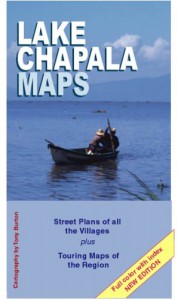 Recent Amazon reviews:
April 4, 2013: "Very Practical Map of Area with all key cities. We found the map really easy to use and up to date."
April 23, 2014: "Wonderful, easy to read and carry in a pocket or travel wallet. Glad I was able to snag one to help me prepare for my visit to Lake Chapala, Mexico later this year."
April 10, 2014: "My wife and I just returned from a week long exploration of Ajijic and Chapala on the shores of Lake Chapala. I was never without this map. I carried it with me, often folded in my back pants pocket. We walked around most of the time and this map helped me move around, know where we were and how to get back to our hotel. We also reviewed the map before we traveled to the area. I highly recommend it if you are traveling to the Lake Chapala area in Mexico."
Dimensions (in inches): Concertina folded to 8.0 (ht) x 4.4, unfolding to 8.0 (ht) x 35.0 (printed both sides). The layout for the two sides is shown below: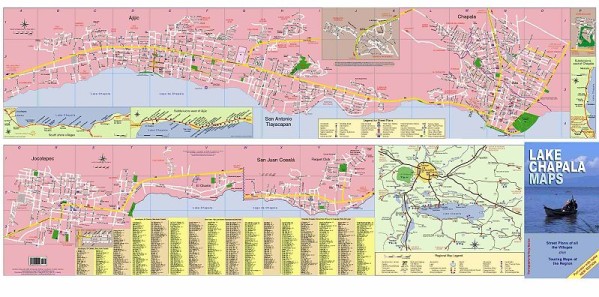 The maps come complete with an index to all streets, and the perfect size to fit in a glove box or hand bag, with all the details you'd expect: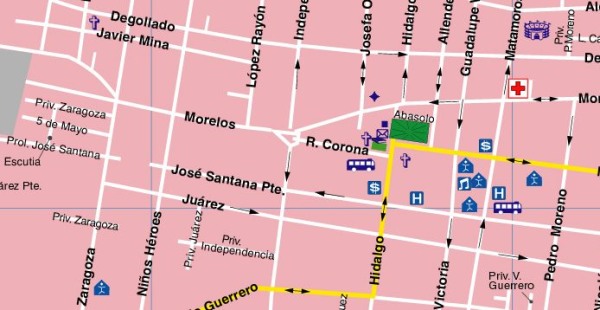 These best-selling maps are regularly updated. Price $10.00 (includes shipping to anywhere in North America). Please contact us direct for ordering details.
Where to buy