Tapalpa – Pueblo mágico ("Tapalpa – Magic Town"), was published by Editorial Agata/Fotoglobo in 2001.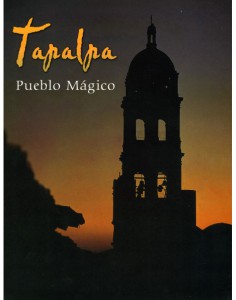 This photo book with captions in Spanish has beautiful full-color photos of this magical mountain town. (Fotografias del pueblo mágico de Tapalpa con textos cortos).
Softcover, 143 pages. Dimensions (in inches): 11.0 x 8.5 x 0.4.
ISBN: 970-657-088-8 Price: US$35.00 (plus shipping, contact us for details)
Related books:
Tapalpa  (Editorial Agata, Fotoglobo, 2001) -64 pp; sepia photos