Juan Rulfo and The South of Jalisco by Wolfgang Vogt (Editorial Agata, 1995).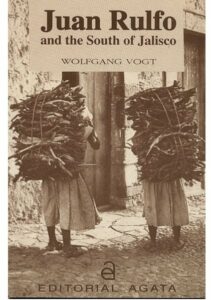 Extended essay by Dr. Volfgang Vogt, translated by Tony Burton. This book is a detailed look at the work of one of Mexico's foremost novelists, and its place in the school of regional literature. Includes 32 black & white photos (by Juan Rulfo) and bibliography.
ISBN 968-7310-56-1. Softcover, 81 pages. Dimensions (in inches): 7.6 x 5.2 x 0.25. Price: $10.00 (plus shipping; contact us for options/details)
Sombrero Books is reader-supported. Purchases made via links on our site may, at no cost to you, earn us an affiliate commission.
Learn more.
The southern part of Jalisco, only a few hours' drive from Lake Chapala, epitomizes many people's idea of the "real Mexico". This extended essay on the work of Juan Rulfo, one of Mexico's most famous novelists, examines how his writing is a superb example of the school of regional literature. Rulfo was also an accomplished photographer and the book includes 32 of his black & white photos and a bibliography.
Related books:
San Gabriel,  Editorial Agata / Fotoglobo, 2004. This is the area forever associated with famous Mexican novelist Juan Rulfo. Includes numerous color photos of San Gabriel, Piedras Niñas, Jiquilpan, Buenavista, Salsipuedes, Telcampana, Totolimispa and San José.
Related posts: