A House Far South in Mexico by Elaine Dandh. (Perception Press 2000).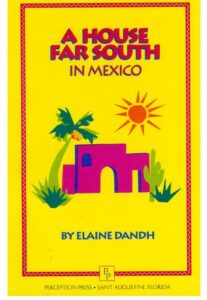 Loosely modeled on the best-selling Year in Provence, this is a blow-by-blow account, from the perspective of the woman of the house, of one couple's adjustment to moving to Mexico to live.
Sombrero Books is reader-supported. Purchases made via links on our site may, at no cost to you, earn us an affiliate commission.
Learn more.
Softcover, 271 pages. Dimensions (in inches): 8.5 x 5.5 x 0.6 Price: US$20.00
Synopis:
On one grey November day in New England, knowing nothing at all of what they were getting into, the narrator and her husband, His Himship, moved to Mexico. In their first year they managed to careen around most of the country, from the mountains of Michoacan to the villages of Chiapas.
They took part in fiestas, descended into ancient burial vaults, and bought a silver dagger from a neighbor who may have been a witch but was certainly a dealer in stolen merchandise. Venturing into a culture which they knew nothing about, they tried to teach their maid how to deal with a faithless husband. Meanwhile the two attempted to record the quaint folkways of the mixed lot of American expatriates they had fallen into.