Mexican Kaleidoscope: myths, mysteries and mystique, by Tony Burton, with thirty original pen and ink illustrations by Enrique Velázquez, is available in both print and e-book editions from all major online retailers (prices in US$):
Copies of the print edition are also available at select retail outlets at Lake Chapala:
Diane Pearl Collections
Mi México
Enrique Velázquez Art Gallery
La Nueva Posada (hotel/restaurant)
Sombrero Books is reader-supported. Purchases made via links on our site may, at no cost to you, earn us an affiliate commission.
Learn more.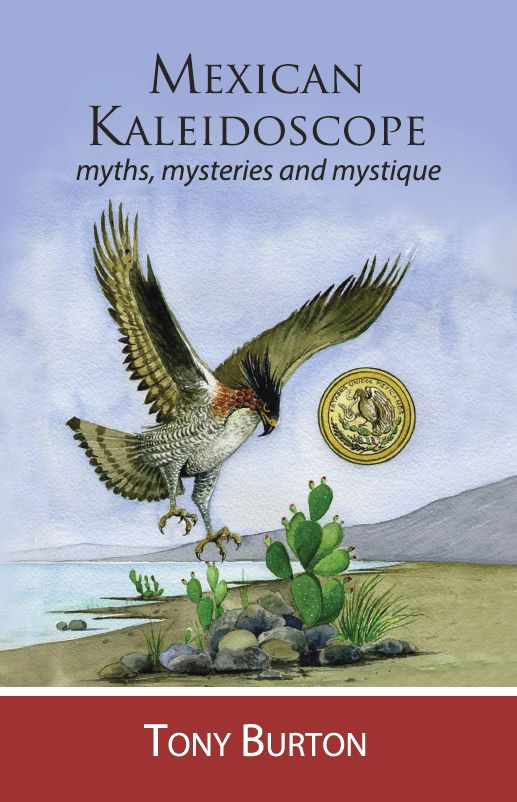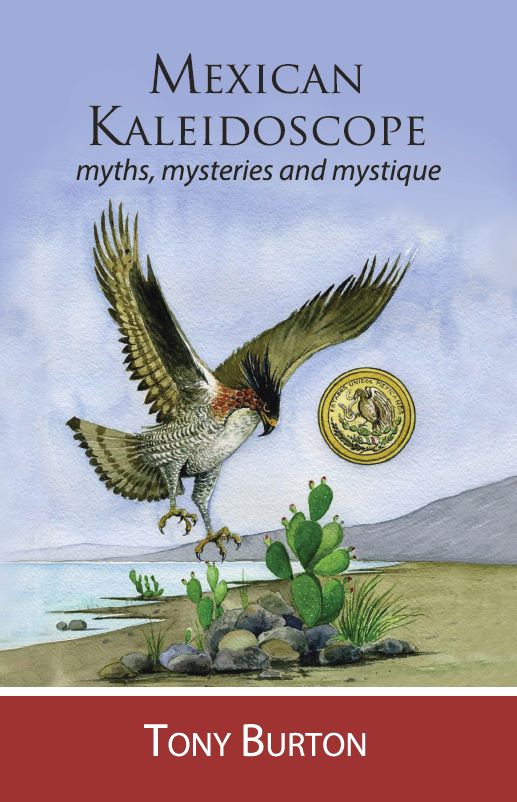 Mexican Kaleidoscope delves into Mexico's colorful history and culture. The author focuses on a fascinating selection of events, discoveries, individuals and intrigues to explore some of the reasons why Mexico has become such an extraordinarily diverse and interesting nation.
The 30 short chapters of Mexican Kaleidoscope span the centuries, from long before the Spanish conquest to the modern day. The topics considered range from the mysteries of Mexican food, Aztec farming and Mayan pyramids to mythical cities, aerial warfare, art, music, local sayings and the true origins of Mexico's national symbols. Along the way, we encounter many unusual, strange, revealing and wonderful facts about Mexico.
Mexican Kaleidoscope unravels some of the many forces that have helped shape Mexico's history and culture and helps us understand the appeal and mystique of this engaging country.
The true quality of Enrique Velázquez's original illustrations is best appreciated in the print editions. Both print and e-books have a full bibliography. The print edition also has a full index.
The author and artist signed books at a formal book launch in Ajijic on 2 December 2016 at 5.00pm in the Centro Cultural Ajijic, on the village plaza.
Mexican Kaleidoscope received this highly favorable review in the Guadalajara Reporter. [Click to read full review]
In the words of Dr. Michael Hogan, author of the best-selling The Irish Soldiers of Mexico and recently published Abraham Lincoln and Mexico: "This is a book that fills in the gaps of many hitherto unexplained aspects of Mexican society, and unravels mysteries of culture… Burton's style is friendly and hospitable to the homebody as well as enlightening to the veteran traveler. It is a book so generous-spirited and worldly-wise that it would make a suitable gift for the novice flying to Mexico for vacation, while at the same time being a cherished companion for the expat already comfortably at home there."
Chapter titles:
Before the Spaniards
1 The Three Sisters and early kitchens
2 Ancient astronomers rebooted the calendar
3 Sustainable farming in Aztec times
4 Pyramid sounds and the Maya blues
5 Rubber balls and Americas' oldest ballgame
6 Roman symbols on a Maya pyramid?
Spanish rule (New Spain)
7 Post-conquest inventory
8 Oldest winery in the Americas
9 Baaad sheep depleted environment
10 Afro-Mexicans outnumbered Spaniards
11 Epic journeys and mythical cities
12 The Manila Connection: cultural exchange
Independent Mexico
13 Birth of the Mexican Navy
14 U.S. appropriates Cinco de Mayo
15 Railroads helped forge the nation
16 Utopian experiment in Sinaloa
17 Historic aerial bombing of warship
18 Deceptive national symbols
People and society
19 Huichol Indians preserve traditions
20 The Tarahumara of the Copper Canyon
21 Train driver sacrificed life for town
22 Archbishop who had miraculous birth
23 Cross-dressing maid conned high society
24 Eccentric painter led art revolution
Culture and beliefs
25 Violinist added notes to musical scale
26 January's weather foretells year ahead
27 World's most popular romantic song?
28 Mexico's soundscapes and traffic whistles
29 Sports fans embrace Mexican wave
30 Mexican cats have only seven lives?